Starting a business anywhere in the United States comes with certain challenges. For instance, most businesses have to borrow money at some point. There are plenty of good reasons for this: you might need it for extra inventory or to continue operating during the leaner business seasons. If you are borrowing in Hawaii, you'll need to know exactly what your options are. Hawaii is a small state and it has limited options for small business loans, so you'll want to make sure you choose your strategy carefully.

The first thing you should know is that Hawaii has lots of small businesses. Over 96.2% of all businesses in Hawaii are classified as small ones. The total number of small businesses in Hawaii is more than 120,000. This means that lenders are in a comfortable position to pick and choose the borrowers they approve.
It's not that you'll have to compete directly with other small businesses for loan money. However, you should do everything in your power to make sure that your request for a loan gets approved. After all, the FFIEC reports that 23,079 small business loans were approved in 2014 for a total of $330.3 million. That might sound like a lot, but it only comes out to one loan for every 5.2 businesses.
The first step to getting the right help for your business is finding the right help for your business, so we've put together this list of loans and other resources available to businesses in Hawaii.
Loans
Loans are capital borrowed from a lender that will be repaid with interest. You'll find there are some loans available in Hawaii that are the perfect fit for a small business.
Hawaii District Office of the SBA
SBA loans are available in Hawaii, just like they are in other states. The Hawaii District Office is responsible for delivering these programs in Hawaii, as well as in Guam, American Samoa, Micronesia, the Republic of Palau, the Marshall Islands, and the Commonwealth of the Northern Mariana Islands.
Many people gravitate towards SBA loans because they are government backed loans that provide very fair interest rates. However, these loans are typically for long periods of time, and not every borrower wants to take on long-term debt. An SBA loan is also difficult to obtain, and many businesses will not qualify.
Bank of Hawaii Lines of Credit
In addition to SBA loans, some banks offer lines of credit. The Bank of Hawaii offers to structure these according to your needs, but a line of credit should be properly thought out before you agree to one. Applying to borrow through a bank can be a long and drawn out process. Additionally, you will need to make sure that you can qualify for a line of credit through your bank. Doing so may require a particularly high credit score, or an established company history. As a result, this option can be more difficult for new businesses.
Pacific Gateway Center Microloans
Some organizations like the Pacific Gateway Center offer microloans for small rural businesses. They loan small amounts up to $50,000 and provide training in essential areas of running a business. Interest rates are determined on a case-by-case basis, and 100% collateral is required of all applicants. However, these small loans can be extremely useful for qualifying companies with low operating costs.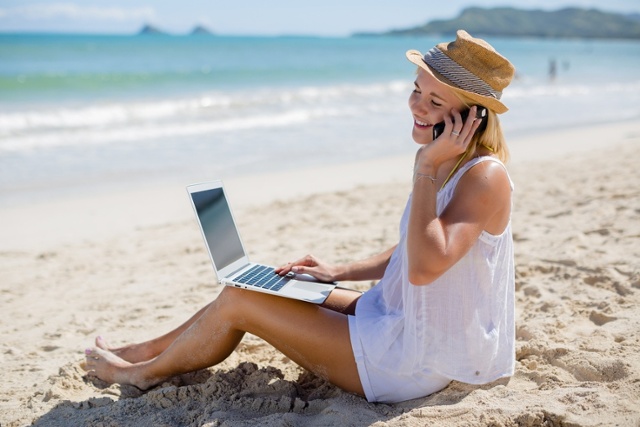 Hawaii Small Business Grants and Resources for Women
As a woman, finding money to finance your small business in Hawaii can be even more challenging. There aren't an abundance of resources tailored for you, but there are certainly a few.
The Amber Grant
The Amber Grant provides a small qualifying grant to a different female entrepreneur each month, with an additional grant of $2500 at the end of the year for one of the qualifiers. It is open to women in Hawaii, and throughout the rest of the country.
The Professional Women's Network of Hawaii
Hawaii also has a Professional Women's Network, which can be an excellent resource for learning about local awards. Although the PWN does not offer an award of its own, it can be a valuable place to network and connect with other professionals who can help you discover financing options.
Other Resources and Advocates
While these organizations do not offer loans, they do offer a variety of other resources, which may prove invaluable to new business owners.
Hawaii Island Economic Development Board
The HIEDB is a private nonprofit 501(c) corporation whose mission is to nurture "balanced growth" in Hawaii County. They are known to schedule information sessions on how to find funds for small businesses in certain fields. One example is the NI3 Neighbour Island Innovation Initiative, which provides technical and business support for Hawaiian companies based outside of Oahu. There is also the Manufacturing Assistance Program (MAP), which can offer reimbursement for certain manufacturing expenses to a maximum of $20,000.
Hawaii Economic Association
The Hawaii Economic Association is an organization dedicated to supporting the growth of its members and furthering public economic awareness. It offers exclusive discussion forums, and monthly luncheons at the Plaza Club where members can network with professionals in a wide variety of different industries. Guest speakers also make regular presentations at these events, which can help attendees gain a clearer understanding of current financing opportunities.
Alternative Financing
Alternative financing means loans from organizations other than banks.
Working Capital Loans
Some private firms offer short-term working capital loans for small businesses that are unable to qualify for other loans. If you do not have perfect credit or several years worth of financial records, this option may be the ideal solution. Companies like Mulligan Funding require only 6 months of financial records, and do not need you to have perfect credit. You can also qualify fast, making sure you get the money when you need it.
Finding the money you need to keep your small business in Hawaii operating can be challenging. However, it should never be impossible. Refer to the list of options above when considering your borrowing strategy, and you should always be able to find one within your power.
Call Mulligan Funding at 855-326-3564 to discuss your financing options today!
The information shared is intended to be used for informational purposes only and you should independently research and verify.
Note: Prior to January 23, 2020, Mulligan Funding operated solely as a direct lender, originating all of its own loans and Merchant Cash Advance contracts. From that date onwards, the majority of funding offered by Mulligan Funding will be by Loans originated by FinWise Bank, a Utah-chartered Bank, pursuant to a Loan Program conducted jointly by Mulligan Funding and FinWise Bank.