Business funding is essential for most business owners at some point in their growth. But finding the right lender and loan package for your specific situation isn't always easy.
How important is it to have a lending source that you can trust, and count on to be there when you need them? Look at the chart below to discover just how common cash-flow challenges are, and the devastating effects that those challenges can have on your business.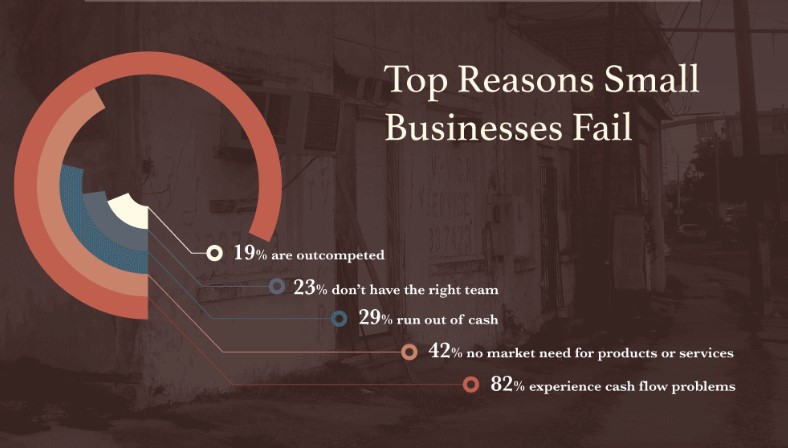 Source: Entrepreneur.com
You may know that 82 percent of small businesses that fail have experienced cash flow issues. That's an alarming statistic for any business owner to digest.
The good news is that there are numerous financing options for your business. The key is finding a lending source you can count on to be there when you need them with a loan program that's flexible enough to meet your needs.
This guide covers multiple business funding options available to business owners. It covers sources such as banks, friends & family, investors, and alternative lenders that specialize in business loans. Also, how to select the source that best meets your specific business needs.
Banks
Most business owners start out looking to traditional lenders such as banks for financing. However, according to 2019 finance statistics banks only approve 27 percent of loans.
Even if you're one of the lucky few that gets approved, the loan process is lengthy (weeks or months) and requires a large amount of financial data, supporting paperwork and collateral to qualify. By the time funding is received, you may have missed an opportunity to profit or your business may have suffered due to the delay.
Small Business Administration (SBA) Loan
Small Business Administration (SBA) loans are long-term financing. Maturity of an SBA loan depends on your repayment schedule, what the loan is for, and life of any assets purchased using the funds. For instance, maturity on working capital is 7 years, equipment 10 years, and real estate 25 years. These loans take months to complete and the approval rate is extremely low.
Three Types of SBA Loans
1. 7(a) Loan Program
The SBA 7(a) loan program is the most flexible SBA loan, allowing you to take advantage of open-ended terms and qualifications. You can use the 7(a) loan program to cover business growth costs like purchasing equipment or real estate. However, qualifying for the 7(a) loan program is quite difficult for most businesses. Loan amounts can be as high as $5 million, but the average loan amount is just over $400,000.
2. Microloan Program
SBA microloans range from $500 to $50,000. The average microloan is around $13,000.
3. CDC/504 Loan Program
The SBA CDC/504 loan is a business funding option for those looking to expand their already existing business. For example, if you need to expand or renovate your restaurant space, purchase a larger warehouse space, or make large equipment purchases, the CDC/504 loan program might be a good fit. Like the SBA 7(a) loan, you can borrow a high amount with a payment schedule that stretches up to 20 years. But similar to the 7(a) loan, this is difficult funding to get because of high competition for the funds and strict program guidelines to qualify for these loans. Normally only well-established businesses with powerful credit and ample collateral can take advantage of this type of SBA loan.
SBA Loan Requirements
To get funding via an SBA loan, banks and other financial institutions will look at the 5-Cs to determine your eligibility:
Character: This is simply an analysis of how you managed your previous loans, both business and personal. Financial officers will also look at your business experience.
Credit: To secure an SBA loan your credit will need to be excellent. Banks conduct an analysis of your personal finances and financial statements to ensure you can repay the loan.
Collateral: This is an important factor when assessing the risk of the loan being repaid. If you have collateral worth more than the loan amount, it will weigh heavily toward an SBA loan approval.
Capital: These are the assets you have that can be turned to cash quickly. Types of capital are stocks, bonds, and real estate.
Confidence: This is a detailed analysis of your business revenue and expenses. Other confidence factors include your industry, the economy, your management team, as well as projected growth.
Acquiring an SBA loan can seem overwhelming. In fact, research suggests that over 80 percent of all business owners have never visited an SBA branch.
Advantages of SBA Loan Funding
One of the most appealing benefits of a SBA loan is the long repayment schedule. It provides business owners with the time they need to get cash flow moving in the right direction, for those that can wait for results.
Disadvantages of SBA Loan Funding
The in-depth process required to get an SBA loan is a definite pitfall for business owners. The high level of scrutiny and numerous requirements results in the SBA approving less than 100,000 loans per year. With the number of small businesses estimated at nearly 30 million, 100,000 is a very small number.
Another pitfall of SBA loan business funding is turnaround time. The process of getting an SBA loan is long (usually months) and requires a lot of documentation. Your business and personal credit history will also be important factors in the approval criteria. And since the payback period is usually longer, your business will be burdened with debt much longer than with a short-term funding solution.
Other Business Funding Options
Friends and Family
Friends and family account for $60 billion of funding with an average investment of $23,000.
This funding option is not always as simple as it may seem. Your passion alone may not close the deal. Like lenders and investors, friends and family want to see that their investment is in good hands and has monetary potential.
Advantages of Friends and Family Funding
One of the major benefits of tapping into friends and family for business funding is they are easily accessible, and they may already believe in you and your venture. They're also usually less demanding when it comes to financial projections and other qualifications that banks would expect you to meet.
Disadvantages of Friends and Family Funding
Like any business funding, issues can arise. For instance, if repayment of the loan becomes difficult or impossible, it could cause a huge strain on your personal relationships. In this case, the old adage, "Never mix family and business" might apply. Another downside to this type if funding is the amount of people you need loans from. The chance of one friend or family member having all the funds you need is rare.
Another potential issue with this type of funding is the potential for an IRS audit for your friends and family, as well as your business. The IRS may want to see documentation on the loan, including interest rates. If you don't set up interest rates, the IRS may ultimately see it as a gift. Did you know the IRS can "impute" interest on a loan? A promissory note is the best way to keep personal lending documented. According to FindLaw, "Promissory notes are documents that contain the terms of a loan so that there is a legally actionable record of the loan specifics."
Acquiring funding from friends and family has benefits, but a fracture in personal relationships and IRS audits may make this type if business funding more trouble than it's worth in the long run.
Angel Investors
Enlisting angel investors as a source of business funding can be beneficial in helping grow your business. What is an angel investor? They are financiers who meet the Securities Exchange Commission's investor standards of a minimum net worth of $1 million and annual income of $200,000 or more.
Angel investors often seek out entrepreneurs who are launching a new business in an untested market. Due to the nuances of these entrepreneurial endeavors, and the stage of their business, it can be nearly impossible for entrepreneurs to get traditional bank funding.
Enter the angel investor. He or she will provide the funding the entrepreneur needs to develop a business idea in exchange for an equity stake in the company. Meaning they have a substantial stake (ownership) of your business, including profits.
On average, angel investors take around 20 percent stakes in the businesses they fund. The "angel" in angel investor is often two fold. Yes, angel investors provide funding to entrepreneurs who otherwise don't have many funding options. However, they are all about opportunity. This means they want a large share of the earnings.
Advantages of Angel Investor Funding
Angel investors bring can bring more to the table than just funding. They often have connections to corporate entities in your industry that can help grow your business. The experience they have can also be beneficial to the development and growth of your company.
Disadvantages of Angel Investor Funding
Another risk that you take when dealing with an angel investor besides the large stake they acquire in your business profits is control. Since they have a significant ownership in the business, they also get a say in how the business is run.and their goals may not always match yours. The high return on the investment they require can inevitably cause friction and strain on your business. Most angel investors will want to see a 10 times return on their investment in five to ten years. Before you work with an angel investor, it is important to understand all of the terms of the agreement you sign to obtain funding from them.
Venture Capital Funding
Venture capital funding is highly competitive with a focus on turning businesses into very profitable corporations. Venture capital funding is sought from venture capital firms, comprised of a group of investors.
Venture capital funding is normally no less than $1 million with high equity requirements. If you are a small business or an entrepreneur starting a business, this is rarely your best option.
Advantages of Venture Capital Funding
The main advantage of venture capital funding is big picture growth. A highly successful business ready to franchise into a national or global corporation can benefit from this business funding option. High growth and profits are associated with venture capital funding. However, the business normally needs to be on the edge of explosive growth to get the funding and benefits.
Disadvantages of Venture Capital Funding
There is also plenty of funding to be had. Businesses will receive multiple rounds of funding, but with each round comes more shared equity for the venture capital firm. Giving up a large portion of your company is a definite disadvantage to venture capital funding. Stakes can exceed 33 percent in many cases.
Also, business owners looking to capitalize on venture capital funding unfortunately need to be in a specific industry. For instance, 70 percent of venture capital funds go toward these five industries:
Internet and Software Service
Industrial Manufacturing
Developing Biotechnology
Space Exploration
Security Defense
As you can see from this list, most VC deals are designed for companies with national or international business potential. That excludes the small business owner who wants to do well in his/her local area. Venture capital funding is extremely exclusive as well. Only a small percentage of all new businesses are funded by venture capital firms. Lastly, you will give up a lot of control to the venture capital firm. They are often a group of investors who will want to be involved in the decision making processes, and the future vision for your business.
Crowdfunding
Crowdfunding is a business funding option that allows you to connect your business with people around the world via online platforms. People contribute money to your goal in exchange for rewards. For instance, you can offer a product as a reward for a specific monetary contribution, depending on your product price points. The idea is to give them a value or discount for backing your business.
Crowdfunding is very project-oriented. A successful crowdfunding campaign centers on the development of an interesting new product or service. However, getting business funding through crowdfunding requires a lot of work. A successful crowdfunding campaign involves . . .
High Quality Visuals: You need to make your business and products enticing. You'll probably need to hire a professional photographer to take your product photos. Visuals and graphics need to be powerful and include prototype mockups when possible.
Powerful and Compelling Message: You need a powerful and compelling message, mission and business plan to gain financial support.
Social Media Campaign: The success of a crowdfunding campaign relies heavily on social awareness and reach. This means promoting your campaign with social media ads, joining Facebook groups, launching YouTube videos, and more.
Enticing Rewards: Most crowdfunding backers are not simply contributing just for fun. They want a return like any investment, and this means having valuable rewards in place for different levels of contributions.
As outlined above, crowdfunding campaigns can be demanding to setup, manage, and promote. However, there are some advantages.
Advantages of Crowdfunding
The major advantage of crowdfunding to fund your business is that anyone can do it. It is free to create a crowdfunding page and receive funds from enthusiastic contributors.
Unlike traditional bank loans, the business funding you receive from crowdfunding is interest free. The only cost to you is the rewards you put into place. Crowdfunding is also a great marketing tool, serving as a way to get your products in front of a large audience.
Disadvantages of Crowdfunding
Unfortunately, most crowdfunding platforms take a cut of your funding goal. Crowdfunding platforms take around 8 to 12 percent of your funding goal. That is if you achieve your goal.
If you don't reach your funding goal, all the contributions you received are returned. This is a major pitfall to crowdfunding. For example, if your campaign goal is $50,000 in 30 days, but you only received $45,000 of contributions, you have to start over.
The average amount of capital raised by crowdfunding is around $5,000. And even with an amount that small, there is only a 60 percent success rate for achieving a funding goal. If you need more than $5,000 to facilitate business growth, crowdfunding may not be the best option.
The Top Two Business Funding Choices
Most business owners choose the following two options for their business funding, working capital loans and business lines of credit. With banks only approving an estimated 27 percent of loans, and the inherent limitations and issues with other funding options, that leaves the majority of the marketplace under served. Alternative lenders have stepped into this void to supply business owners with the capital they need to run and grow their business.
Let's take a deeper look into these powerful business funding options.
1. Business Line Of Credit (LOC)
Choosing a business line of credit (LOC), also known as a revolving line of credit, lets you draw from approved amount of funds whenever you need it. One of the biggest benefits of a LOC is that you only incur a fee on the funds you use, not the total amount that you're approved for.
For example, if you're approved for a $100,000 line of credit, you can draw $20,000 to increase inventory this month. Then, draw $10,000 for equipment upgrades next month. You're not limited in how you access or use the proceeds from this funding option.
Another benefit of a business LOC is that your limit is replenished after repayment of the funds you used. For a business owner looking for a flexible funding option for anything that comes up, a LOC is exceptional.
When it comes to top business funding options, a business line of credit gives you the freedom to manage funding as needed. A LOC also provides a layer of security to help you react to business circumstances as they arise.
2. Working Capital Loans
Working capital loans can usually be obtained within 24-48 hours. Minimal paperwork is required (one page application). Imperfect credit is okay. No collateral is required. And unlike bank loans, the loan proceeds can be used for any purpose.
Working capital loans provide business owners the cash they need for day-to-day operation costs such as payroll, rent, vendor payments, tax bills, and more. They're also frequently used to offset slow account receivables, seasonality, and unforeseen expenses that are common to most businesses.
Working capital loans are also perfect for businesses primed for growth. You may be ready to add staff, upgrade facilities, expand your product line, or repair or replace outdated equipment. This top funding choice provides a quick and flexible way to invest in your business' growth without the disadvantages of other lending sources such as:
– Angel investors and venture capital firms are positioned to take control of your business.
– Crowdfunding success is rare and funding amounts are low.
– Friends and family investment can cause strain or fracturing of personal relationships.
– Big banks have extensive requirements and restrictions, take weeks or months to complete, and only have a 27 percent loan approval rate.
Choosing The Best Lending Partner for Your Growing Business
Finding the best financing option for a business can be the difference between success and failure. At Mulligan Funding we believe that a lending partner should provide:
– A simple, one-page application
– Approval and funding in as soon as 24-48 hours
– High approval rates
– A highly personalized one-on-one relationship with a designated funding expert to help you through the entire lending process
– Flexible Working Capital Loan programs (ours function similar to a line of credit)
– Take the time to understand your business needs and concerns in order to tailor a loan for your specific situation
Call Mulligan Funding at 855-326-3564 to discuss your financing options today.
The information shared is intended to be used for informational purposes only and you should independently research and verify.
Note: Prior to January 23, 2020, Mulligan Funding operated solely as a direct lender, originating all of its own loans and Merchant Cash Advance contracts. From that date onwards, the majority of funding offered by Mulligan Funding will be by Loans originated by FinWise Bank, a Utah-chartered Bank, pursuant to a Loan Program conducted jointly by Mulligan Funding and FinWise Bank.