Sharing a delicious meal is a meaningful and intimate activity that people the world over enjoy. Many aspire to bring people together over a plate of haute cuisine or hearty homestyle cooking, but few have the initiative to make this dream a reality. If you are one of the elite few that have taken the initiative to open a restaurant or your own, then congratulations! You're already following through on an idea that most people are too afraid to undertake.

Of course, you're not out of the woods yet. Restaurants are an important part of the ecosystem of small businesses that make America great, but they are very expensive to open and operate. Costs can vary tremendously but frequently range from tens of thousands up to millions of dollars, and there's always unexpected expenses you will have to contend with.
Many restaurant owners may lack the liquid capital to fund their enterprise's sustainable long term growth or adequately deal with an unexpected expense. In this respect, they're no different than most entrepreneurs. But no entrepreneur should give up on their vision just because they can't fund a project out of pocket.
Fortunately, there are numerous small business loans for restaurants available to new and aspiring restaurant owners, and at some point you're going to need to borrow some money to keep things running smoothly. But what kind of loans are available to help finance a new restaurant? Let's take a look at what's on the menu.
Working Capital Loans for Restaurants
Restaurant specific working capital loans are short term loans that allow you the most flexibility to cover any necessary expenses to keep your restaurant running smoothly. You can use a working capital loan to buy equipment, hire employees or contractors, or even develop marketing materials and take out advertisements.
Loans for new restaurants is often the best option for restaurant owners who need financing quickly, without difficult qualifying criteria. In the fast-paced restaurant business, having money ready in a day or two instead of weeks or months can make a big difference. Mulligan Funding specializes in working capital loans that are perfect for the restaurant entrepreneur.
Restaurant Equipment Loans
One of the major expenses of any restaurant is cooking appliances and other equipment, and it can be difficult or even impossible to pay for needed equipment using the liquid capital you have on hand.
Luckily, you can finance up to 100% of the cost of purchasing equipment for your restaurant with an equipment loan. So whether it's a wood-fired brick oven, a twelve burner cooktop, or just a big old fridge, you will be able to borrow to cover the cost of the purchase.
You should know that restaurant equipment loans will usually only cover cost of equipment itself plus any applicable taxes, so remember to account for any additional costs like delivery and installation in your business plan.
The equipment itself often serves as collateral for this type of loan, making it easier to acquire financing on good terms without any worries. However, this means that you have less control of the equipment while the loan is being repaid. If you suddenly need to liquidate to meet some financial obligation you will find yourself out of luck. An average equipment loan takes 3 years to pay off, which is a long time to have a lender looking over your shoulder.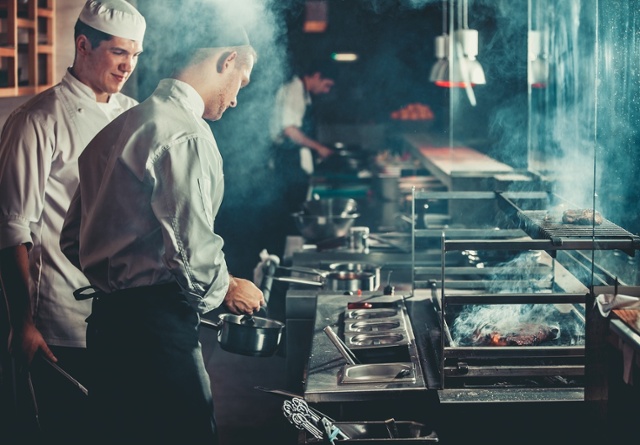 Factoring
Factoring is a financial strategy that involves a business owner selling accounts receivable at a discount to a third-party funding source to raise capital. In a typical factoring arrangement, you make a sale, deliver the product and generate a bill. The funding source buys the right to collect on what you sell by agreeing to pay you slightly less than the bill's face value.
The funding source pays 75 percent to 80 percent of the expected sales immediately and pays the remainder (minus the agreed upon amount) when your customers pay. Because the funding source is not directly extending credit to you, they are more concerned with the customer's ability to pay than your financial status. That could mean that a restaurant with a proven customer base may be able to engage in factoring even if it doesn't have the credit to qualify for a conventional loan.
Factoring is a widely used financial strategy employed by a range of diverse businesses, and it's especially popular with businesses that have long billing cycles, like the clothing industry.
Somewhat like clothing retailers, restaurants have inventory available that can be used for factoring. Your restaurant can receive a loan using your inventory as collateral. Factoring is a great way to turn your restaurant's inventory into working capital. But be aware, the money received through a factoring loan is a short term option that comes with higher interest rates.
Small Business Administration (SBA) Loans
Loans backed by the Small Business Administration (SBA) are another popular way to finance a restaurant. Over the past decade, more SBA-backed loans have gone to restaurants than any other type of business. An SBA loan comes through a lender (usually a bank), but the loan is guaranteed by the government. This means the loan is safer for the lender, so they can offer better terms than with conventional loans.  
However, SBA backed loans are only approved for a small percentage of applicants each year, and if you are one of the lucky restaurant entrepreneurs to get approved for an SBA loan, your personal assets will be staked as collateral in order to close the deal.
So be warned: SBA lenders are required to go after all available personal assets from the borrower if you are unable to repay. That means you personally will be financially tied to the success of your restaurant if you get an SBA loan.
Financing for Restaurant Entrepreneurs: What Have We Learned
Securing a loan may be an essential step in assuring the success of your restaurant. You have many options, but you may still have a lot to think about when it comes to deciding where to seek financial backing. Hopefully this article has given you some prepared food for thought. Whether you seek  traditional loans or alternative finance from a lending partner like Mulligan Funding, what's essential is that you keep the doors open and the stoves boiling the pots. How you do it is ultimately up to you.
Call Mulligan Funding at 855-326-3564 to discuss your financing options today!
The information shared is intended to be used for informational purposes only and you should independently research and verify.
Note: Prior to January 23, 2020, Mulligan Funding operated solely as a direct lender, originating all of its own loans and Merchant Cash Advance contracts. From that date onwards, the majority of funding offered by Mulligan Funding will be by Loans originated by FinWise Bank, a Utah-chartered Bank, pursuant to a Loan Program conducted jointly by Mulligan Funding and FinWise Bank.