It may not come as a surprise to you that 82% of businesses that become non viable end up that way because of cash flow issues. Whether the result of poor money management, costly unforeseen circumstances, or some other reason, businesses can definitely find themselves in trying situations owing to a lack of liquid capital.


Small business financing can help. With the right plan and some hard work, you can actually find financing that allows you to not only to stay cash flow positive, but also to get a good ROI. Yes, a business loan can help you to generate cash flow, which will allow you to generate wealth. Think of it this way: If you get a loan for $100,000, deploy those funds to acquire products, and then go on to sell the entire inventory for $140,000, then you can pay back the loan and net the difference as profit.
But once  you've got the loan, what's your next step? You need to make sure that you get every dollar of that loan working for you, so that you can make the most of the loan. Read on for some tips on how to use funding you small business financing wisely and responsibly grow your business.
Buy New Equipment
You can generate substantial financial benefits by using your small business loan to buy new equipment. Of course, the type of equipment you buy will largely depend on the industry you're in, but if you are strategic, your new equipment purchase could yield benefits that include, but are not limited to, the opportunity to offer your customers new products and the chance to increase operational efficiencies.
Bridge the Expansion Gap
One of the realities of doing businesses is that you may have to wait weeks or even months between the time you sell something to a client and the time you actually get paid. If your cash flow situation makes this sort of payment scenario a precarious balancing act, a small business loan will give you the financial wherewithal to whether any late payment situations. And this will help you to focus on what you do best, running and growing your company.
Spruce Up Your Online Real Estate
First off, here's to hoping that you're not one of the 52% of small businesses that don't have a website. But even if you do, you have to ensure that you're not one of the majority of businesses — try 97% — that have ineffective websites. In this increasingly digital era, having an online presence is no longer a choice, it is essential to running a successful business. You could tap a small business loan to either build a new website or to refresh the one you already have. Improvements could include making your website mobile friendly, adding e-commerce functionality, and more.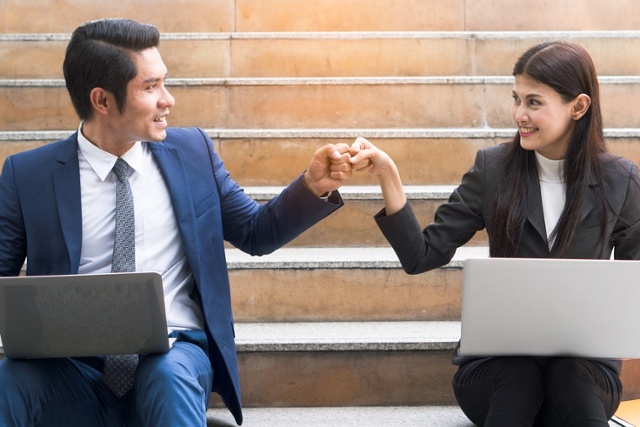 Expand Your Territory
Renovations or expansion strategies are a good use of your small business financing. If you run a popular restaurant, perhaps you might decide to expand the dining area to seat more customers or to offer more options such as a patio dining. If you run an information technology services firm, perhaps you might want to expand your workspace to accommodate for increases in demand for your services. When it comes to renovating or expanding, the sky's the limit.
Promote Your Brand
With small business financing, you can pursue a comprehensive public relations, marketing, and advertising campaign to build and promote your brand. The extra funds will also enable you to retain the services of professional third-parties who can maximize the impact of any promotional efforts you want to launch. In the crowded marketplace, you need to pull out all of the stops to get attention for your business, and a comprehensive promotional campaign will enable you to do so.
Open Another Location
Have you ever mulled over the possibility of expanding into new markets? Whether you run a flower shop, a professional services company, or a clothing store, small business financing could help you to open up a new store. Of course, you'll want to conduct some market research to figure out the best areas to set up shop in. But if you do your homework and choose correctly, you could reap a windfall in revenue going forward.
Stockpile Inventory
One of the most frustrating situations that businesses can face is not having enough inventory to satisfy consumer demand. So, consider using business financing to assemble a well-stocked inventory. This is particularly important when it comes to periods of the year when sales are typically higher than they are during other periods of the year. If you lack sufficient inventory, would-be customers may simply go to other retailers to get what they want.
As you can see, there are numerous things you can do with small business financing that could easily result in a high ROI. If you use your working capital loan, business line of credit, or other type of small business financing properly, you can definitely generate the cash flow you need to keep your business a success.
Call Mulligan Funding at 855-326-3564 to discuss your financing options today!
*The information shared is intended to be used for informational purposes only and you should independently research and verify.
Note: Prior to January 22, 2020, Mulligan Funding operated solely as a direct lender, originating all of its own loans and Merchant Cash Advance contracts. From that date onwards, the majority of funding offered by Mulligan Funding will be by Loans originated by FinWise Bank, a Utah-chartered Bank, pursuant to a Loan Program conducted jointly by Mulligan Funding and FinWise Bank.